Arches Traffic & Travel Tips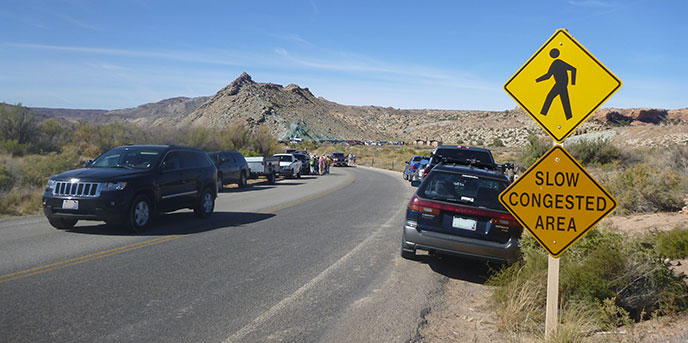 Between March and October, it can be difficult to find parking. (NPS Photo)
Visitation to Arches has climbed steadily for years, reaching one million visitors for the first time in 2010. During high visitation, parking is limited at all destinations, and popular trailheads like Delicate Arch and Devils Garden regularly fill for hours at a time, especially on weekends and holidays.
There are a few alternatives to driving your car in Arches, but if you're planning to drive, then this page is for you.
Where the Crowds Are
From March through October, visitation at Arches is extremely high. During high visitation, there may be significant delays entering the park, and once inside, you can expect increased travel times and congestion along the scenic drive. Long lines may form at the entrance gate. If the entrance road is backed up, you may not stop on the highway: it is against the law. (Utah Code 41-6a-1401) Come back at another time, or consider visiting other nearby attractions.
Parking lots at popular trailheads and viewpoints such as Devils Garden, Delicate Arch/Wolfe Ranch and The Windows are usually full between 9 am and 4 pm. In 2015, construction at the Delicate Arch / Wolfe Ranch trailhead will mean significantly reduced parking. You might have to plan on hiking elsewhere.
If you do find a parking spot and go for a hike, expect to see a lot of other people on the trail. It is not uncommon for hundreds of people to visit Delicate Arch at sunset. The following holidays and weekends are especially busy:
Easter week (date varies – usually in April)
Memorial Day (last Monday in May)
Labor Day (first Monday in September)
Utah Education Association break (4 days in October, visit www.myuea.org for details)
When parking lots are full, please remember:
Park in designated areas only.
Do not drive off roads.
If a lot is full, do not wait for spots to open; move on and try again later.
Never park on vegetation or in a manner that blocks traffic.
Don't block the flow of traffic by waiting for a parking spot.
How to Avoid the Crowds
Avoid visiting on the holidays/weekends listed above.
Early morning (sunrise) is always less busy than sunset. To beat the crowds, try entering the park by 8 am, though you may encounter groups of early-morning photographers at some destinations.
Carpool if you can. Consider hiring a company to shuttle you to and from the park (visitwww.discovermoab.com to see what's available).
Parking for oversize vehicles (RVs, trailers) is extremely limited. Leave oversized vehicles in town, or in the visitor center parking lot.
This articles is found at the official NPS website here:
http://www.nps.gov/arch/planyourvisit/traffic.htm